Response Tools for the Language Classroom
This is a practical webinar for registered participants only.
Practical information
The workshop is scheduled for 22 March 2021 at 13:00 Central European Time. Full program >>
The workshop will be open only to the registered participants of the DC4LT webinar series. The number of participants is limited. Registration >>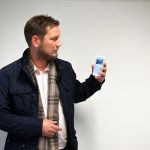 Tord Mjøsund Talmo
Norwegian University of Science and Technology, Norway
Summary
In this workshop we will focus on Educational Technology the teacher can use for in-class learning. We will demonstrate a response tool called iLike, primarily designed for language learning, and practice on using the software ourselves. Even though there will be a technical presentation, the main focus of the workshop will be to discuss and refine methodological approaches to use response tools in the lecture.
Learning Objectives
To learn how to utilize technology in the class

To learn how to download, install and use a response tool

To gain insight in different question types to trigger responses and learning in the student group

To be confident in retrieving answers and using them for new tasks in a question based lecture

To reflect on differences between analogue and technological question based pedagogy

To understand why universal methodology for using response tools  in a class is a viable approach for language learning