Digital Competence Assessment Framework for Language Teachers
This is an open webinar. Registration is not required. Zoom link will be published here.
Practical information
The workshop is scheduled for 26 March 2021 at 13:00 Central European Time. Full program >>
The session will be open to everyone. However, registration is required to participate in the practical webinars. Registration >>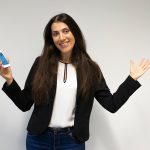 Maria Perifanou
University of Macedonia, Greece
Summary
This open workshop aims at engaging participants in an open and interactive discussion that will focus on the presentation, analysis and evaluation of the different dimensions of the DC4LT Assessment Framework.
More concretely, in the first part there will be a short overview of known digital literacy frameworks addressed to language teachers. Then, it will follow a short presentation of the DC4LT Assessment Framework and its different dimensions, as well as a description of its development.
In the second part, participants will be divided in six groups and will be invited to discuss and share their opinions on the main topics addressed by each dimension of the DC4LT framework. 
In the last part of the workshop, the feedback of each group will be presented and discussed.
Learning Objectives
To learn about known digital literacy frameworks that address specifically language teachers' digital needs. 

To explore the DC4LT Assessment Framework and its different dimensions

To discuss and reflect on the digital needs of language teachers

To work in groups using open access collaborative tools